Akitō is a Māori verb that means to 'do something slowly'. While we chose this name because it applies to our 'slow food' style it also translates to a beautiful lifestyle concept. When you take the time to slow down, you create space to enjoy the small moments in life – that's when things become more meaningful and your experiences more joyful.
People come to Waiheke to take a break from the hamster wheel and to find some peace. That is the environment we are trying to offer at our café – a place of calm, of pleasure and of meaningful food moments.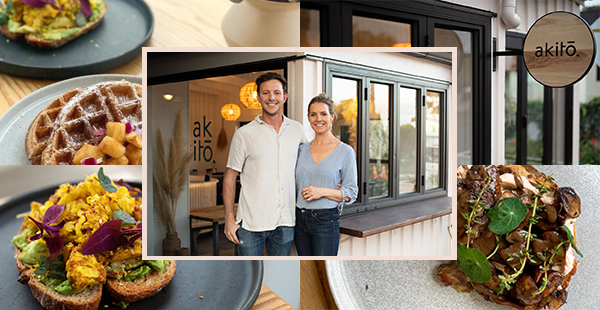 While Akitō is a 'plant focused' cafe, we do not label ourselves a vegan or vegetarian cafe. Eating a vegetarian diet is not what it once was and it's always been my mission to demonstrate that. We offer dishes with maximum flavour and complexity whilst highlighting fresh, seasonal, and local produce and implementing sustainable procedures.
This food style and concept has been very well received from locals and visitors alike. We see everyday how our customers are trying to make a conscious effort to change as they become more aware of their health and the global attention to climate change continues to increase.
At Akitō we have a fantastic team who come from all corners of the world. Everyone has a deep passion for food, for health, and for flavour and there's always laughter and volume coming from our kitchen. It is a pleasure to be amongst.
Our menu changes seasonally to keep things fresh in the kitchen and make use of fruit and vegetables while they are abundant and full of flavour. We bake our sourdough daily with each loaf taking nearly 3 days to make so they all come packed full of time, love, and consideration. We also practice methods of pickling, preserving and fermentation with fruit, vegetables, and grains.
In our cafe we aim to take on a regenerative direction and create a space that gives back to the earth as much as we take from it. By minimising food waste and plastic use in our workplace we hope to become as sustainable as possible, and create a better footprint for our Island, and the greater environment.
I was born on Waiheke and spent my childhood here. I have spent the last 12 years travelling and working onboard Superyachts as a Chef which is how I met Simon.
We were both working on different yachts in the Caribbean at the time. We had known each other only a week before our boats went in separate directions. However, we stayed in touch and a year later we started brainstorming our grand plan.
This is our first business so it is a learning game for us and each day brings new lessons. We may be a couple of rookies in the honeymoon phase of owning a business but we see every day as an opportunity to be better than the day before it.
We built this space with a deep passion for good food, for our Island and for this community. I think you need passion and drive more than anything as a foundation for good business.
Despite COVID putting a huge spanner in the works very early in the game, we still seem to be thriving with visitors to the island as well as our loyal locals. We feel very blessed to live on an Island which is a 'destination location', and as summer approaches we feel very optimistic for the future ahead.
Now that we've opened our doors and navigated our way through a winter and a pandemic, we're going to put our heart and soul into growing this space as a place where all our customers, friends and family can feel at home. We want to use this little place as a foundation for our community to make better food choices and focus on conscious consuming.
Hospitality is an industry that always brings hurdles and challenges but between us, and with support from our fantastic local community and our families near and far, we have the bones, the strength and the support for whatever comes our way.
Story by Shantala Tengblad, (co-owner with her partner Simon McNeish)
Akito, 153 Ocean View Road, Oneroa, Waiheke Island
Phone: 09 372 7659