"We grow using an agroecology approach. Our growing is all about letting nature take its course with as little intervention as possible. We are an inaugural recipient of the "Snail of Approval" award."
Curious Croppers
We are always curious when it comes to Curious Croppers, so we took a trip meet our good friends, Anthony and Angela Tringham from Curious Croppers, to learn more about them and their unique Tomatoes
Tell us a bit about your business and why you do what you do? 
"We specialise in Heirloom Tomatoes. We have been growing for 30 years. Growing Heirloom Tomatoes for 15 years. Why? Because tomatoes are the most charismatic fruit of the vegetable world, and they evoke strong emotions in people."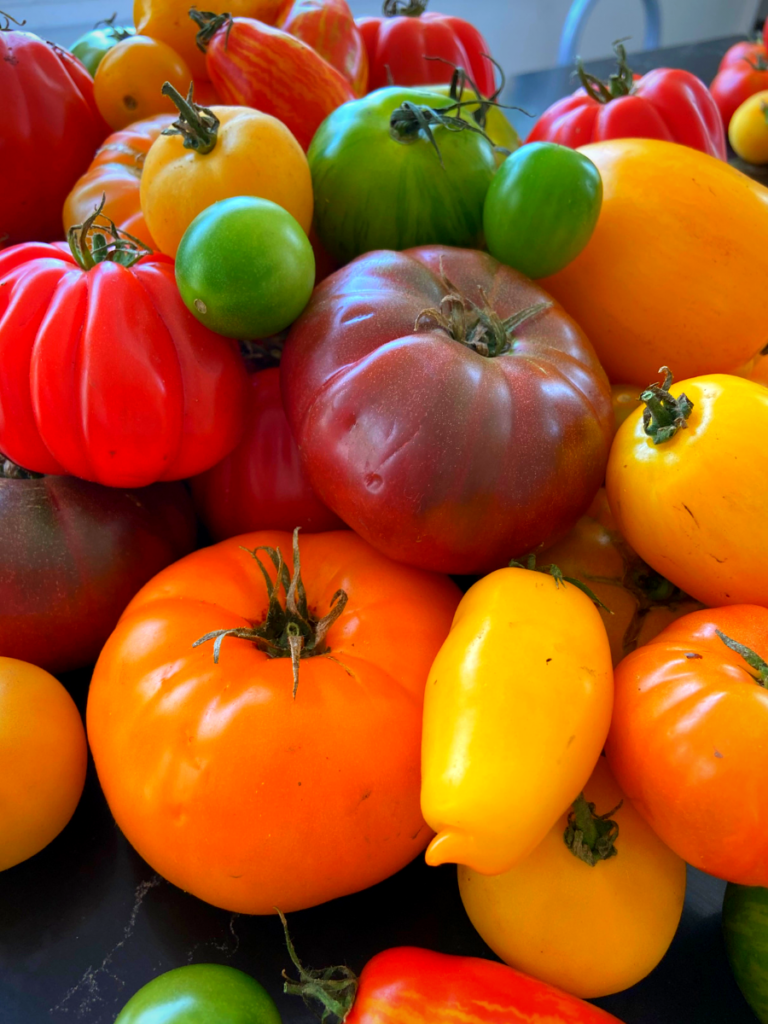 What are you doing that is different from other Tomato growers in NZ? What sets you apart?
"Firstly, the difference is the varieties, and just how many of them we grow. Secondly, it is how we grow them.
We grow about 50 different varieties of Heirloom Tomatoes. These Tomatoes are all low yielding, slow-growing varieties. But they are also flavoursome and nutrient-dense. We  don't pick them until they are ripe. We believe that the fruit gets most of its flavours and nutrients in those last few days and every year we trial different Heirlooms."
What do you feed your tomato crops to make them the best they can be?
"As little as possible. Our groundwater is near the sea (one of our secrets) and our soil is in fantastic condition."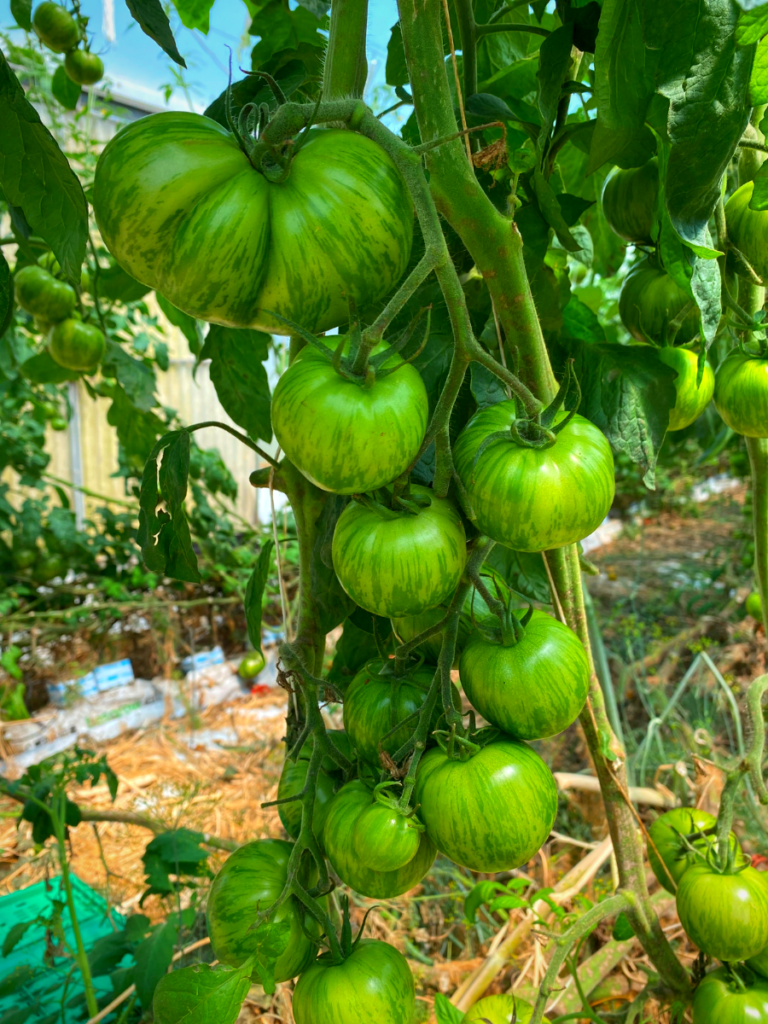 Which Tomatoes are you most proud of? 
"Spanish Green – because the flavour is so different and delicious.
Vintage Brandywine – tastes and looks so good and you only get one fruit per plant, per month.
Oxheart – because when you cut it up it looks so pretty.
Cassidy's Folly – surely just for the name alone!"
What have been the most challenging Tomatoes you have grown?
Spanish Red. It is so disease-prone and is a battle to keep it alive. The first year of growing it, we lost 70% of the crop. However, we have got a lot better at growing it and only lose about 25% now. We thought about giving it up, but we absolutely love the flavour and all our customers asked us to keep growing it."
What have been the most rewarding Tomatoes that you have grown?
"Ananais Noir, Marigold and Cassidys Folly, because they are just beautiful. They are also hard to grow, with extremely low yields, making each one very special."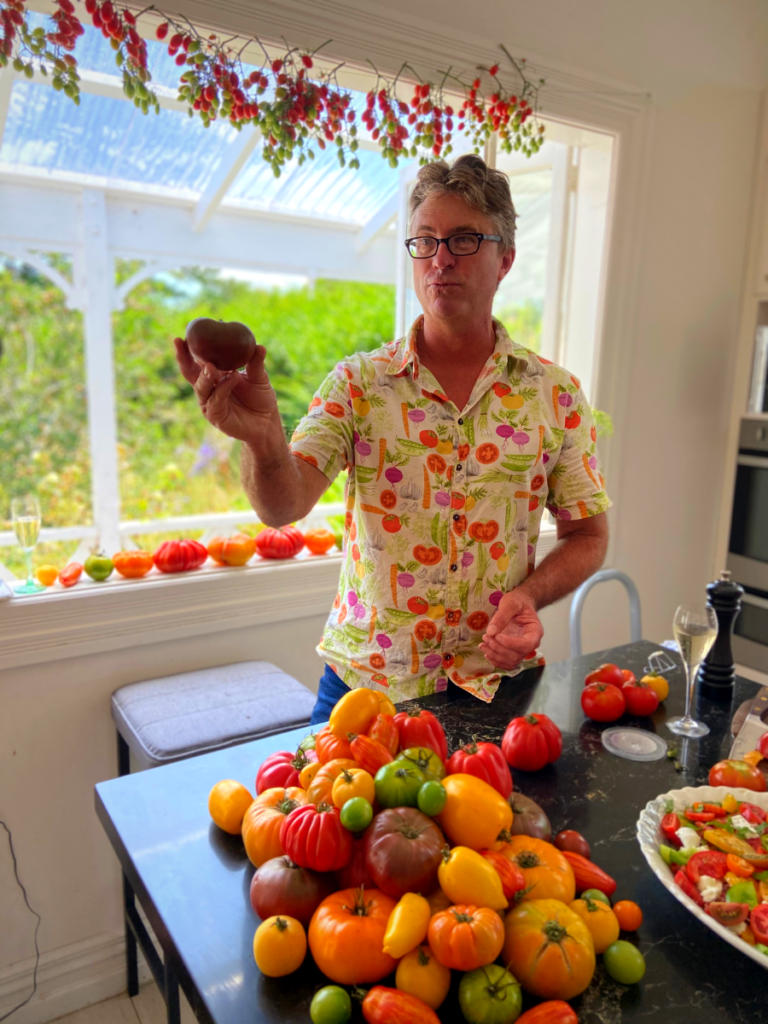 What challenges are you facing as a grower?
Climate Change (drought/heavy rain), 
2. TPP (Tomato Potato Psyllid)
And of course Covid
What were the greatest successes and challenges growing your Tomato crops this season?
"Challenges – Drought/Covid."
"Successes – That we actually planted. We were buying/collecting seeds in the middle of lockdown and had no idea whether or not we had a market to grow for. It was a bit of a leap of faith and we are pleased we did."
What advice do you have for someone new in the industry?
"Don't do it for the money – do it for the love!"