Make menu planning less stressful with our new seasonality calendar.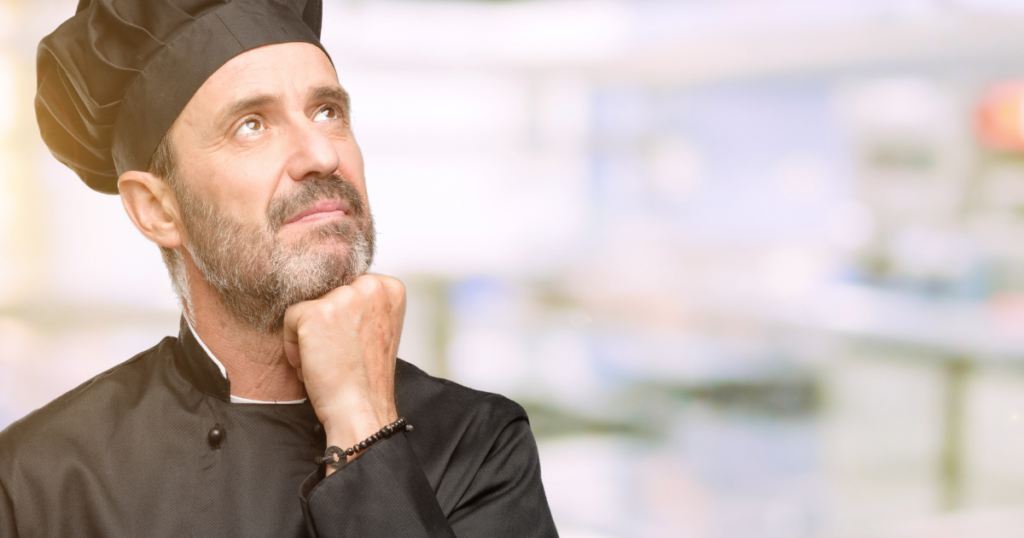 What vegetables are in season? What fruits are available now? 
Do these questions sound familiar?
These questions are notably the topics of conversation we have with our Chefs at The Produce Company (PCL). We have been servicing the restaurant industry for a while – 20 years to be exact and those questions honestly, never get old.
The world of produce is an ever-changing beast that endures constant changes and environmental impacts that include sudden rainfalls to severe floods within the week and with the effects of COVID, we see the reduction in manpower across the horticultural industry, delays in planting crops and the list goes on. But despite all these challenges, it's our job to keep you informed to the best that we can despite the numerous external challenges.
It's been 20 years and we are no less dedicated to the world of Produce and supporting our Chefs than when we started.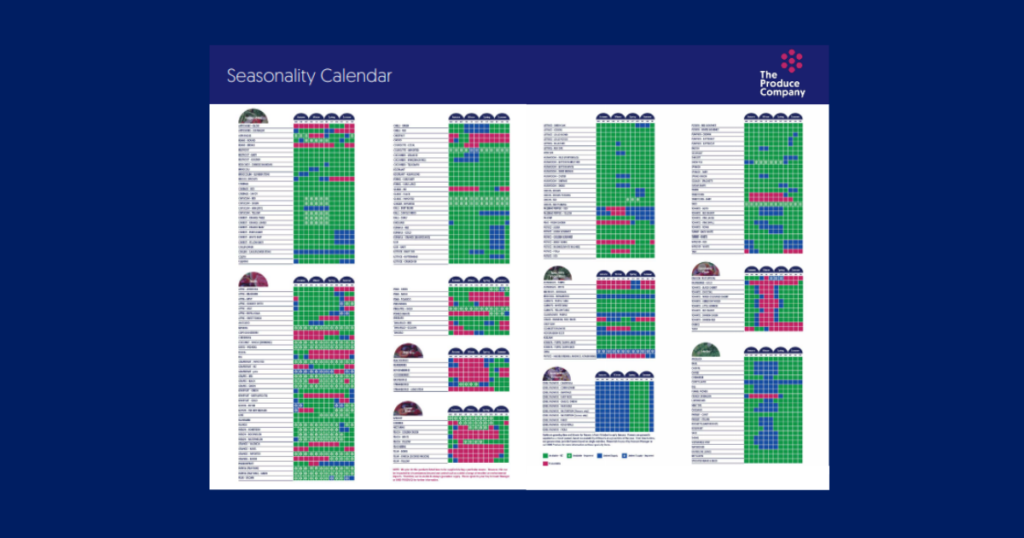 To support you, as our valued Chefs. We have created a seasonality brochure where we have highlighted our top produce along with tips and tricks to help make the best use of them. Along with a grower feature on one of our favourite Kiwi partners and most importantly providing you with our in-depth seasonality calendar.
We live and breathe produce and want you to be able to do the same. We know that you have made it your mantra to design your menu around the best of what the season has to bring. That's why we have created a comprehensive seasonality calendar to provide you with the information to plan ahead and we can't wait for you to start using it!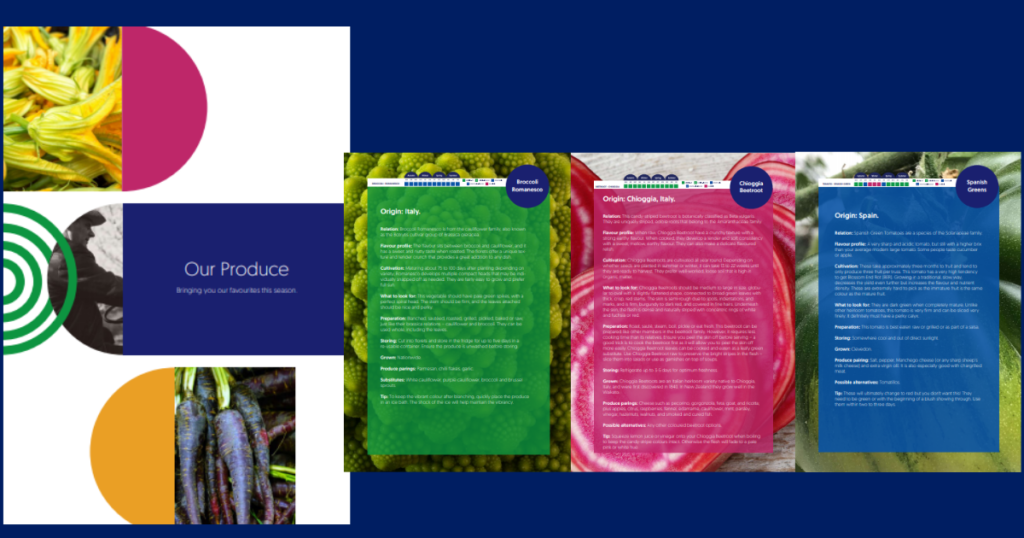 A bit about the seasonality calendar.
 It includes all the seasons (Autumn, Winter, Spring and Summer), broken down by month and colour coded to show the status of the produce at that point in time. Let's break down the colours, shall we?
Green – Available – sourced from NZ

Green + favicon – Available – imported

Blue – limited supply

Blue + favicon – Limited supply Imported

Raspberry – Unavailable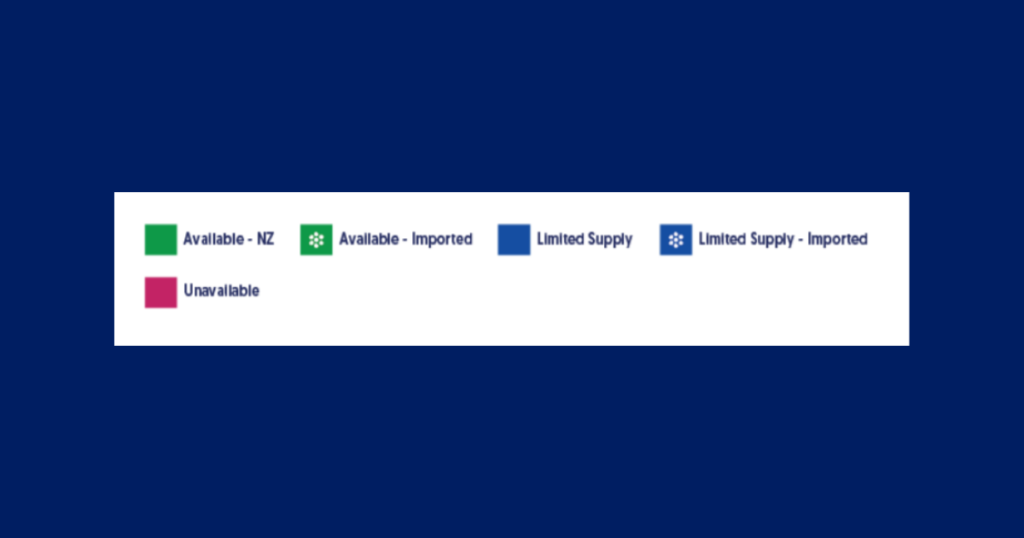 What's the best part of our seasonality calendar?
Highlighting our specialty fruits and vegetables of course!
We have broken our seasonal calendar down even further to provide you with specialty items so anything weird and wonderful is what you'll find here. At The Produce Company, we are all about sourcing the season's finest but also sourcing the unique and wonderful, so you'll find that this list will continue to grow!
The breakdown includes…
Specialty vegetables
Specialty fruit
Specialty flowers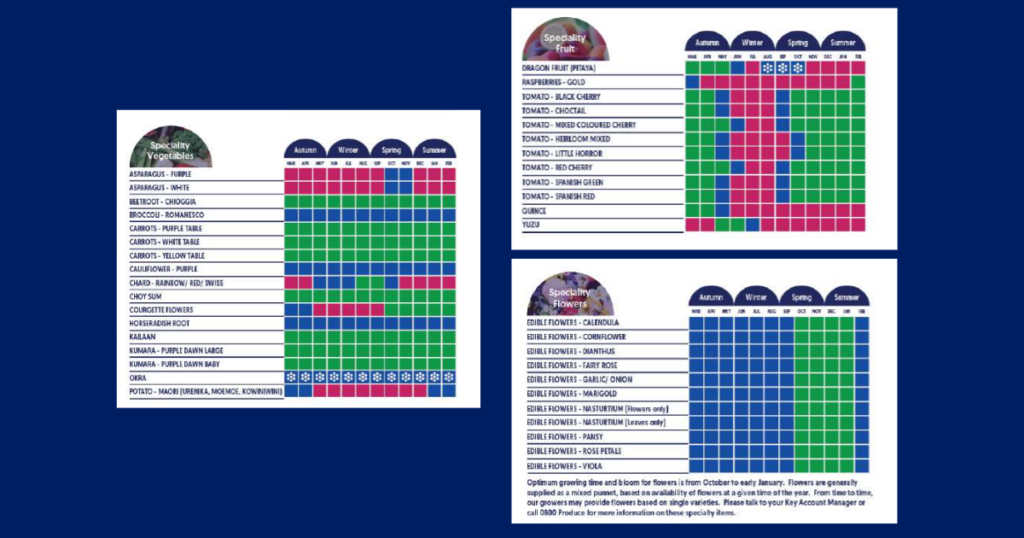 Hopefully, these questions on vegetable and fruit availability can be answered using our seasonality calendar. However, our Key Account Managers (or as we like to call them our experts in the field).
Have a vast array of knowledge and experience in planning seasonal menus, working with Chefs anywhere between 6-8 weeks in advance to plan menus that use the season's finest produce. They are at the forefront of produce and are all-knowing when it comes to sudden changes in fruit and vegetables, quick on their feet and ready to offer alternatives if circumstances change.
 To us, produce is part of your culinary toolkit, used in creating those exceptional dishes for your diners and to spark inspiration that can lead to culinary gold! And we can't wait to see the menus you create using our best produce of the season.
Follow us as we visit NZ growers and farmers to get first-hand produce news.